Vision:
We commit to collectively create a campus where individuals and communities thrive and pursue their dreams as their authentic selves, liberated of all oppressive systems.  
Mission:
The Santa Rosa Intercultural Center's mission is to support student success using racial justice, social justice, and equity frameworks that center students of color and queer students focusing on four core areas: Advocacy and Activism; Caring Environments and Counter Spaces; Culturally Affirming Education and Convivial Learning; Personal and Academic Transformation.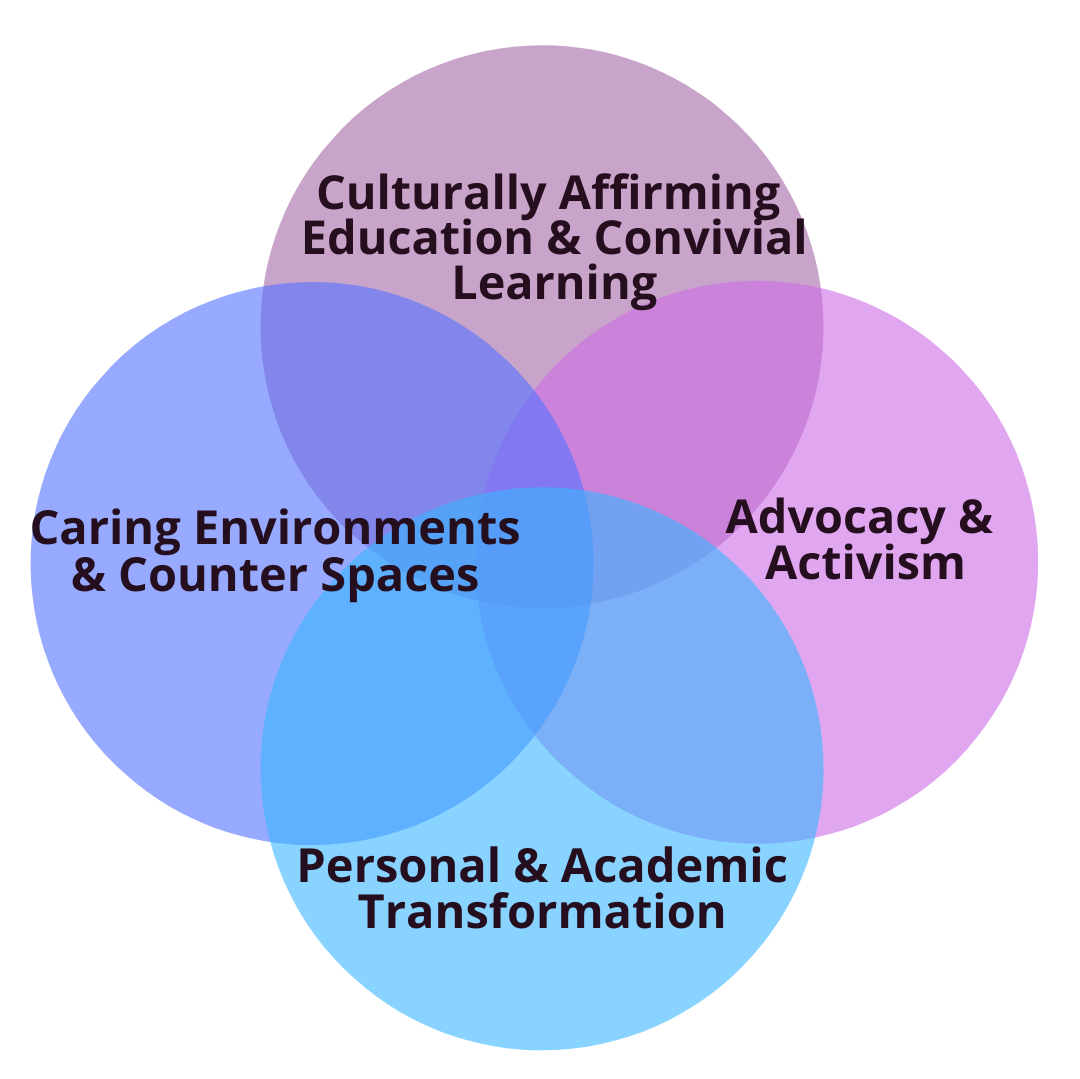 ---
Logo/ Badge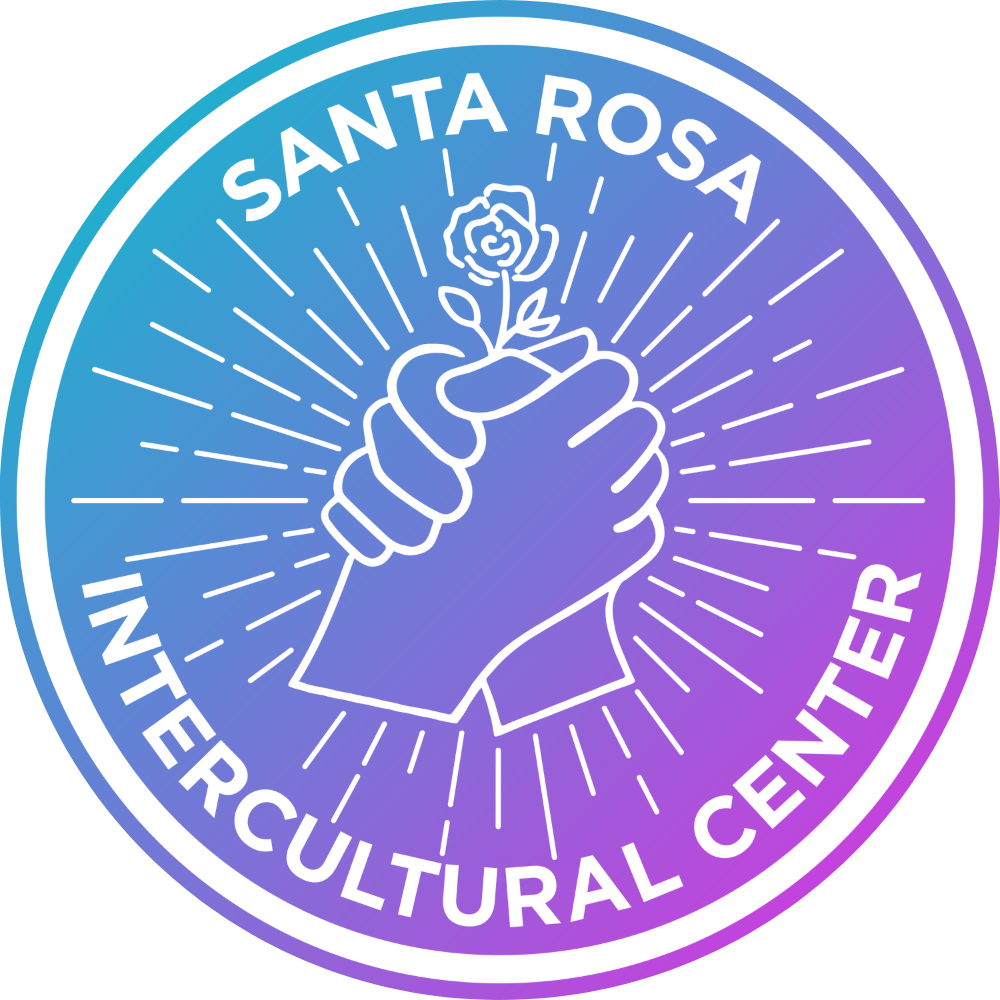 Our "logo", officially known on the Santa Rosa campus as a "badge", is an white outline over a blue/ purple gradient. The outline is of two hands holding each other, out of which grows a rose. Sun rays surround the image. Around the circle are the words, "Santa Rosa" (top), "Intercultural Center" (below).
Meaning: The two clasping hands aim to demonstrate the power of community, connectedness, and collectiveness. The manner in which the hands are together is representative of a common handshake and symbol in many communities that signifies respect, unity, camaraderie, mutual support and solidarity. The rose alludes to our town and college name (Rosa). As well, it is a nod to Tupac Sakur's 1999 "the Rose that Grew from the Concrete", yet in this image it is growing from community, strength, and tenderness, rather than from harsh conditions. Having a rose prominent in our badge also acknowledges the centrality of the land, plants, and other non-human relatives in our fight for full liberation. The rays shining from the hands and rose recognizes plants and connectedness as something sacred. As well, it is a play on our name "Santa Rosa", Spanish for Saint Rose. The rays also signify renewal and regeneration, as some communities believe that the sun is born and dies each day. The color gradient was chosen for its softness and implication of change, flexibility, and honoring the vast range of color, and ourselves.
Axiom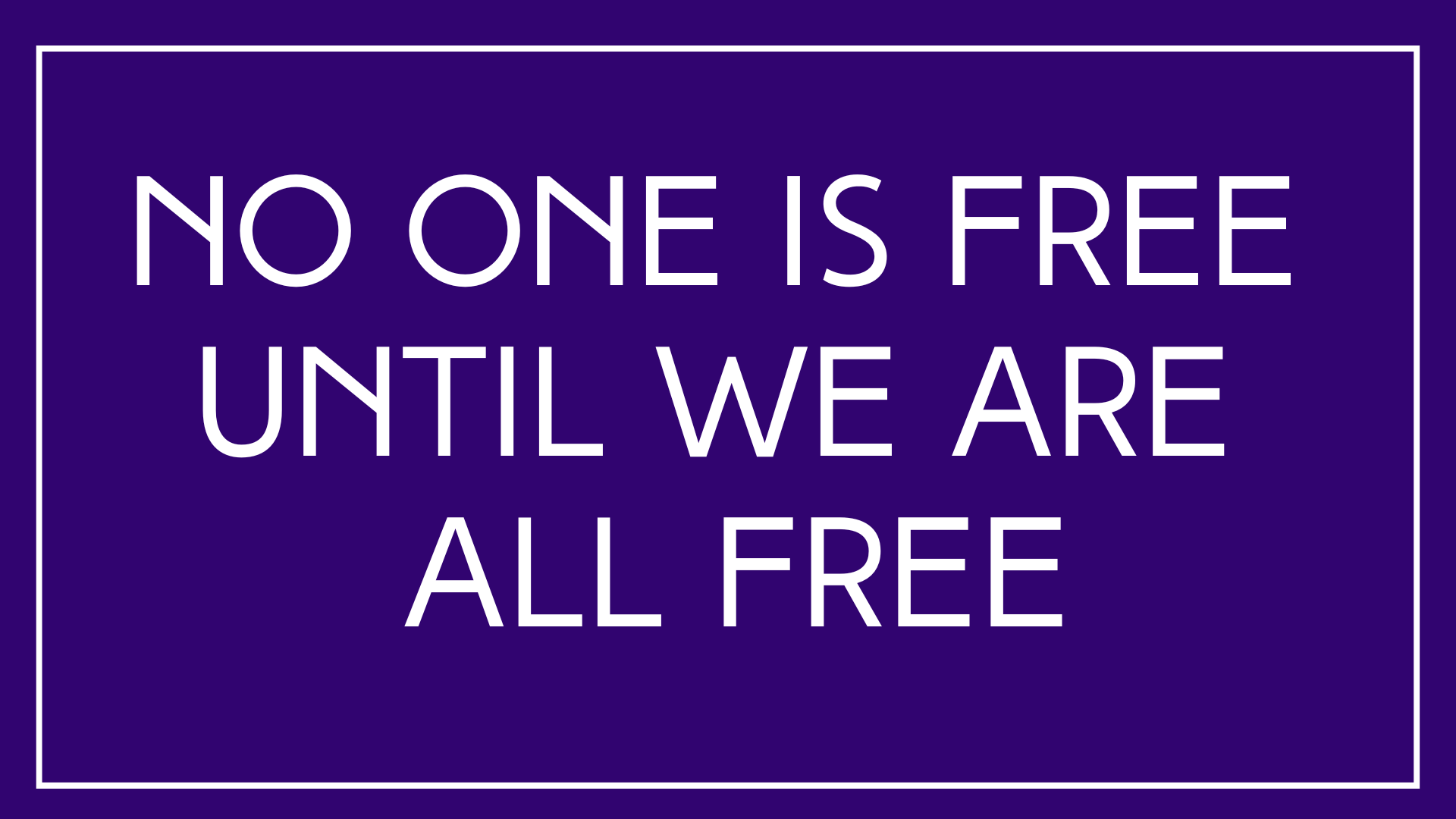 "None of us is free until we are all free" is Santa Rosa Intercultural Center's axiom. It is a way in which we recognize that our struggles are rooted in each other struggles, as well as our joys, and paths for liberation. It is within the same tenets as Lilla Wattson's (Murri) famous quote: "If you have come here to help me you are wasting your time, but if you have come because your liberation is bound up with mine, then let us work together". Recognizing that the Santa Rosa Intercultural Center is home to the Queer Resource Center, Native American Center, APASS, Puente, and shares space with Umoja and Sawubona Black Student Support Center, it is important for us to be intentional in how and why we collaborate and work together. As well, this axiom helps us remember the vastness of the human, spiritual, animal, plant, world experience, that if we are to truly practice liberation, it is imperative for it to be a collective freedom. It is a call for a holistic and connected wisdom that moves away oppressive hierarchies and binaries. It urges us to imagine and work towards creating and renewing the world(s) we want to live in.