Upcoming events: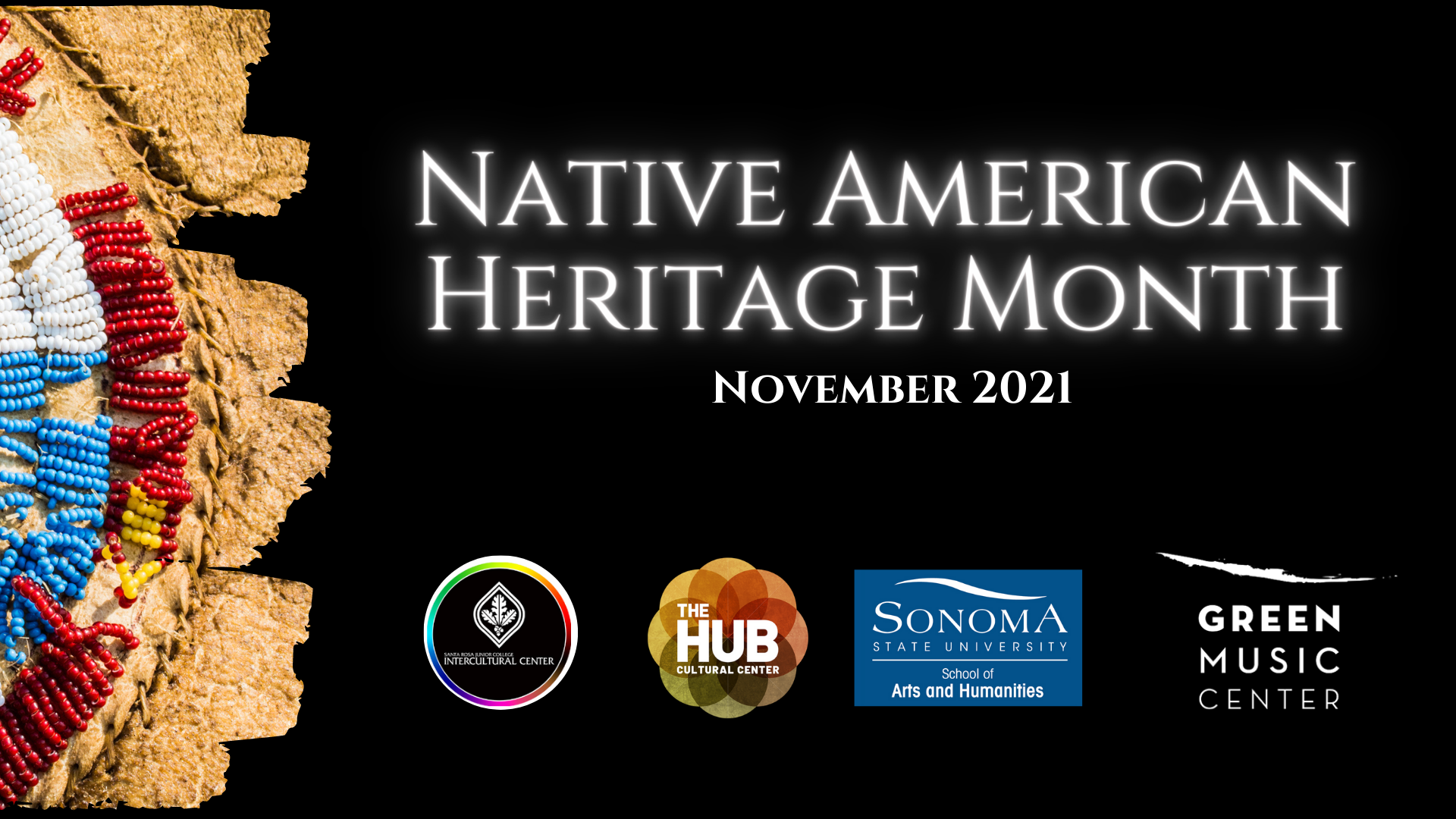 Join us for events that center the experiences, lives, and history of Native folks. In collaboration with Sonoma State and SSU's the HUB Cultural Center, we have come together to provide a vast array of events. Click here for more info.
---
Past events:
---
       Monday, August 16, 10-11am & Wednesday, August 18, 5-6pm
Learn more about the new Intercultural Center in Santa Rosa and "Our House" in Petaluma. Both centers serve as important hubs for antiracism and social justice work at SRJC.
---
 

Vaccine Panel *traducción en español

Join us Thursday, September 23 from 5-6 pm. Questions/ concerns over the COVID vaccine? Get your questions answered by experts in the field. 

Panel of experts: Dr. Kismet Baldwin, Dr. De Von Jackson, Dr. Brian Prystowsky, Zeke Guzman

Can't make it, send your questions ahead of time to: studenthelthservices@santarosa.edu

Live captioning (CART) provided in English, and event translated in Spanish

 

zoom link: https://santarosa-edu.zoom.us/j/92097800187

 

Acompáñanos el jueves, 23 de septiembre de 5-6pm. Tiene preguntas o dudas sobre la vacuna del COVID? Expertos médicos le contestaran cualquier duda sobre la vacuna contra el COVID

Expertos incluyen: Dr. Kismet Baldwin, Dr. De Von Jackson, Dr. Brian Prystowsky, Zeke Guzmán

Si no puede asistir, made sus preguntas a: studenthelthservices@santarosa.edu

El evento estará completamente traducido en español por interpretes profesionales. Subtítulos en tiempor real en inglés.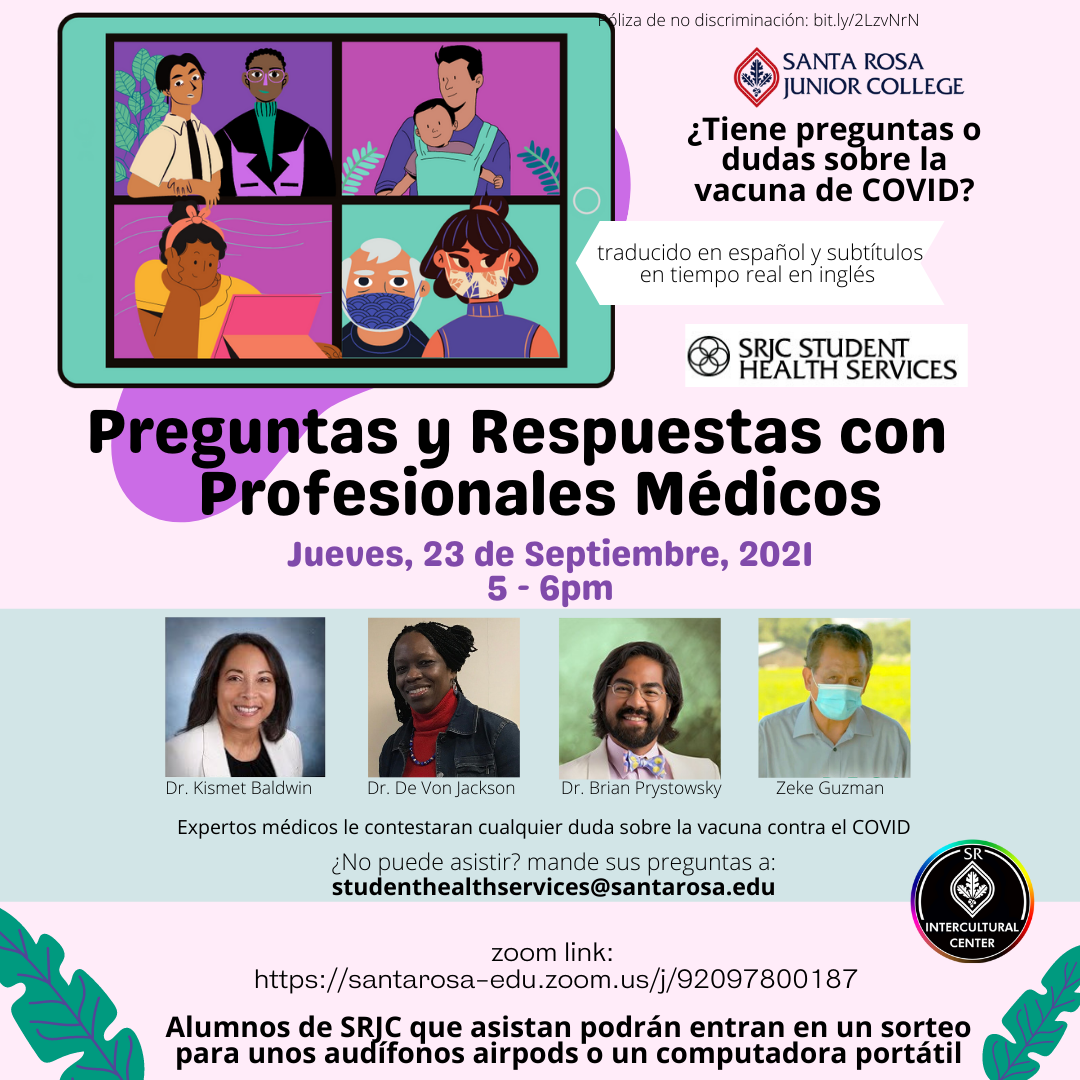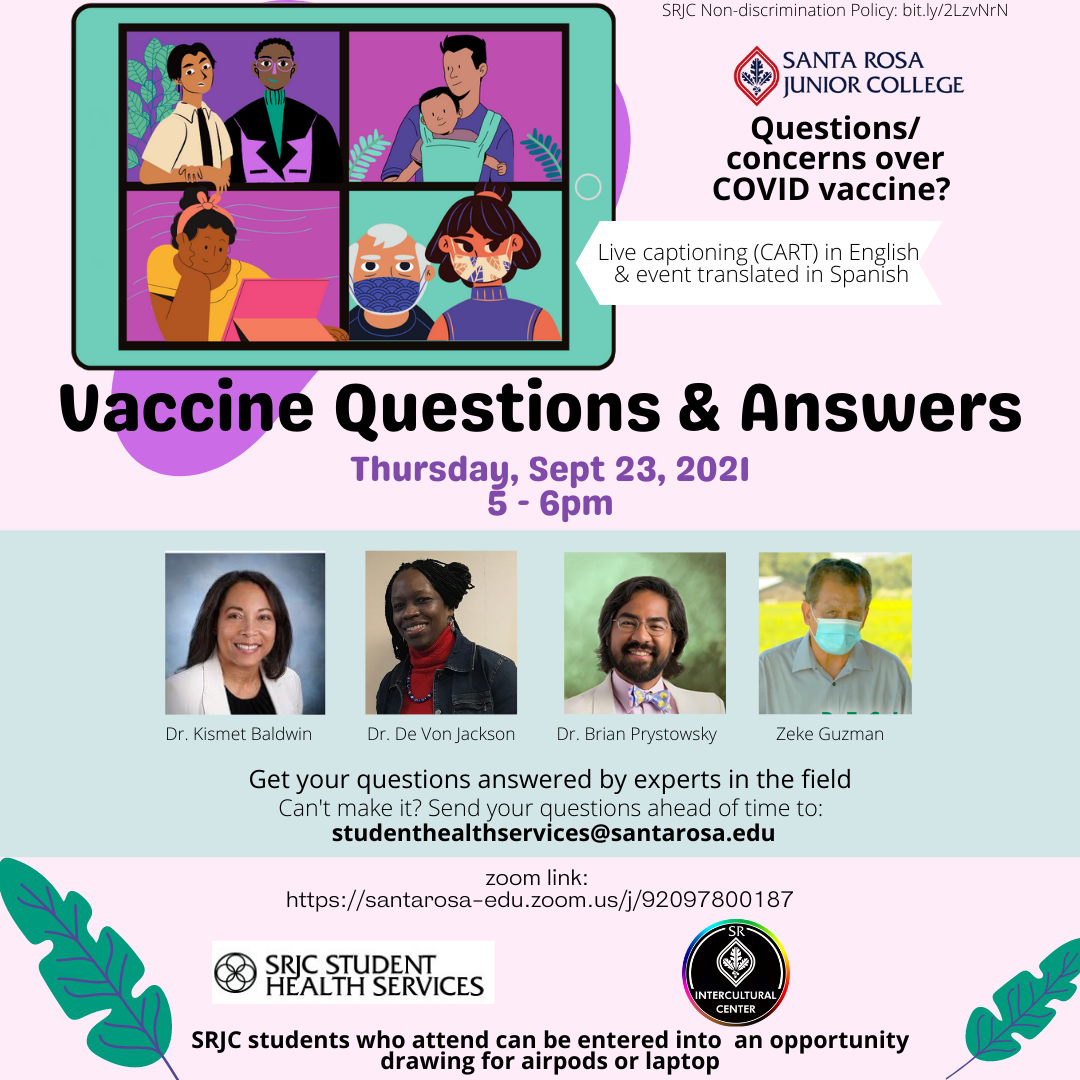 ---
Oct 11th 11am - 3pm
Join the SRJC Native American Faculty & Staff Association and Native leaders in our local community for a virtual gathering.
---
Coming out Across Intersections hosted by Yosimar Reyes
Wednesday, October 13. 11am -12pm
Yosimar Reyes, nationally-acclaimed poet and public speaker, will lead the discussion around the nuances of "Coming Out" as it relates to intersectional identities, with a focus on their own experience within Mexican/Chicanx/Latinx Queer Identities. This will be an incredible discussion and we invite folks to join us from 11a.m. to 12pm..
Yosimar Reyes is a nationally acclaimed poet and public speaker. Born in Guerrero, Mexico, and raised in Eastside San Jose, Reyes explores the themes of migration and sexuality in his work. Yosimar is a LAMBDA Literary Fellow, named as one of "13 LGBT Latinos Changing the World" by The Advocate, and Remezcla included Reyes on their list of "10 UP and Coming Latinx Poets You Need to Know".
---
The SRJC Foundation is commissioning artist and alumna Maria De Los Angeles to create a mural for the Santa Rosa campus.
Come have a conversation with the artist about what you would like to see in the mural that reflects our community. The conversations will be welcoming and fun. The artist will create a safe and respectful space for a fruitful conversation that might inspire visual vocabulary and symbols for the mural design.
Click on the event title for more information.